One of the YouTube Farming Rock Stars attended the Ag Media Summit. He's Greg Peterson, one of the Peterson Brothers who made the hit, Farming and I Grow It.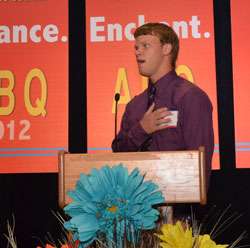 Greg really does sing and showed his talent at Ag Media Summit. The photo to the left is Greg on stage singing the National Anthem during one of the lunches at AMS. Great voice and a great job.
Greg says that he and his brothers edited the video and help from their sister to shoot the video. It took a whole summer since there is a lot of work today between school and the farm. The video has been viewed over 6.6 million times as of this post.
If you haven't seen the outtakes you need to watch them too: Outtakes 1 – Outtakes 2 Need the lyrics? Here they are.
See more and listen to a podcast with Greg on Agwired.com